When cruise lines come to mind, one tends to visualize passengers of the silver hair and track suit variety, as opposed to young whippersnappers in their 20s and 30s. But now, a fleet of ships – anyone who wants to stay in business, in fact – is making it their business to engage a new generation of customers.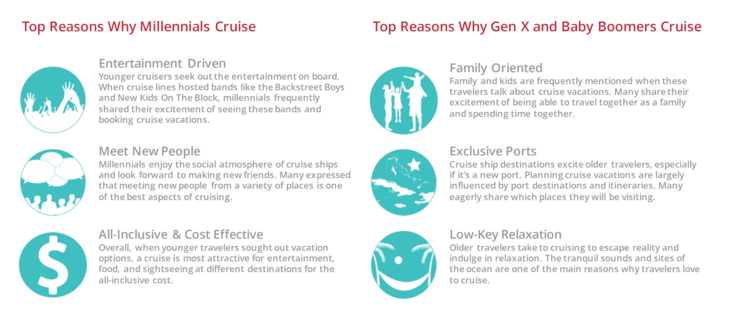 via Crimson Hexagon
Millennials fall into the 21 to 45-year-old age bracket, and they haven't been an easy target to crack for traditional travel and leisure industries like cruises and casinos. But that doesn't mean it's an impossible feat. Many cruise lines are making attempts to reach first-time cruisers and convert them into life-long loyalists with a range of marketing efforts and new efforts tailored exactly to their interests. Take a look at how these stand-out companies are navigating the millennial wave and gaining lifelong customers while they're at it:
Royal Caribbean
Royal Caribbean has stood out in recent years in the company's effort to attract a younger demographic. Its "Come Seek" campaign, an interactive segment of which won an Effie award for effective marketing in Media Innovation – Existing Channel last year, sets out to convey that a Royal Caribbean cruise is much more than a floating hotel at sea. And the message delivers.
The high-energy clip – variations of which have been viewed millions of times across the brand's multiple international market YouTube pages – highlights everything that makes the cruise line non-stop fun, while pushing forth a millennial-driven message: "This is not a cruise. You are not a tourist. This is not the Caribbean. This is the Royal Caribbean." It's a call to adventurers who wouldn't normally be interested in cruising, the young and tech-savvy, who value experience and immersion over an all-inclusive resort. But still – why not have both?
Key Learnings: In the words of creative agency Mullen Lowe, "Come Seek" is a beacon to the "untourist" and the "anti-cruise," perfect for targeting this age bracket. Royal Caribbean has gotten incredible leverage out of the campaign, which launched in 2015, using it to rebrand social channels and drive engagement across platforms. And the thinking behind it? A promise of discovery, exploration and adventure, according to the company, reflective of "the brand's [own] adventurous spirit… [and] the traveler's personal experience and point of view at the heart of the campaign."
Meanwhile, other efforts like extended port stays and new itineraries that feature adventures around the Cannes Film Festival, for instance, are meant to further entice a younger crowd and, according to (Royal Caribbean-owned) Celebrity Cruises Marketing VP Lisa Kaufman, "are very much in tune with how this segment is looking for… cool experiences that give them stuff to talk about" and share on social.
Carnival Cruise Line
When it comes to reaching a millennial audience via experiential and content marketing, Carnival Cruise Line stands out in its widespread efforts – including mobile-first strategies and a content hub under the daydream-inducing moniker, Away We Go. On social, with 450,000 Instagram followers and over 4.8 million fans on Facebook, not to mention 218k on Twitter, the brand is certainly doing something right. In 2016, they embraced digital innovation and launched a 360-degree video campaign called "The Vista Effect" with Instagram influencer Zach King, giving viewers a chance to experience the cruise as if first-hand.
Today, Carnival's social feeds are filled with a mix of proprietary and user-generated travel photography, intriguing cinemagraphs, and shareable videos – as well as cruise details and news, like close-ups of savory dishes and announcements hailing Queen Latifah Godmother of their newest ship. Users are engaged throughout, regularly leaving thousands of likes and hundreds of comments and shares on photo and video posts.
Carnival Cruise Line's newest campaign, "Choose Fun," is also effective in targeting the millennial market with this winter's video work. One set consists of shorter snippets that sidestep ad blockers, while the other takes a testimonial route with three different monologues from initially reluctant first-time cruisers who end up having the time of their lives – but not in an in-your-face kind of way. "We believe 'Choose Fun' is a bumper sticker Carnival guests would proudly identify with," explains CMO Kathy Mayor, "a rallying cry that inspires those who have never cruised to give it a try."
Key Learnings: Amp up your visual strategy and don't be afraid to experiment. There's no excuse for poor design these days, no matter the audience, but for millennials especially, aesthetics count, and seeing is believing. "The Vista Effect" experience provided an exclusive, virtual interactive tour of the new Carnival Vista ship, with all its attractions and amenities, and was broadcast on Facebook, YouTube, and Away We Go – as well as to King's enormous audience of 21.5 million followers.
And Carnival welcomes that kind of innovation with open arms: "Cruising has grown faster than land-based vacations over the past decade or so, and we think technology can help accelerate that trend as we help people envision themselves in an amazing cruise environment," says Vice President of Corporate Marketing Ken Jones. "And as additional types of technology continue to evolve, we will continue to look for ways to incorporate it."
U by Uniworld
Another way today's cruise lines are engaging younger generations is through new, targeted offerings. Themed voyages, like Disney or Star Trek-centered ships, do their part to attract a niche audience. But new ventures like U by Uniworld, from the luxury parent company Uniworld Boutique River Cruise Collection, make it crystal clear that their objective is to attract and engage "an active traveler between the ages of 18 and 40," according to Ellen Bettridge, Uniworld President and CEO, "with everything from the décor, dining and cocktail service to the land activities thoughtfully curated to appeal to, and meet the needs of, this audience."
The A and The B set sail this spring, two sleek black boutique ship hotels with luxury interiors and design throughout. Meticulously thought-out offerings like painting, mixology, cooking, and wine courses, silent discos, yoga, heightened dining, an ice bar, and more, also speak to the market perfectly, targeting foodies, singles, friends, couples, creatives, and other millennials. And a partnership with EatWith pairs passengers with local hosts for a meet and greet as well as a shared meal at designated stops.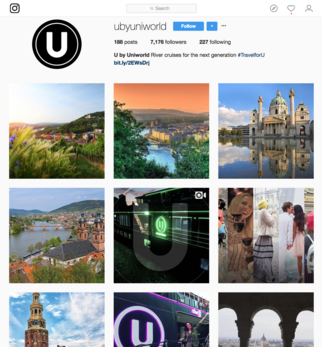 Key Learnings: For now, U's social channels are still picking up steam, but a dedicated video strategy has clips making rounds on Facebook, and colorful, travel-inspo based Instagram feed has led to steady growth. U is a brand that knows it audience and does anything to cater to their needs. Now, it's time to spread the word. To gain traction, last year the young brand held a Facebook contest to award millennial travel agents with a chance to board a round-trip cruise to Paris, while encouraging others to share requests and ideal itineraries with the hashtag #AllAboutU – making people feel seen, heard, and truly excited at the prospect of a cruise vacation.
That's what seems to be the secret moving forward: cruise lines must hone their ability to genuinely connect with millennial audiences and leverage technology in creative, effective, and authentic ways if they want to stay afloat in the years to come.