The climate emergency – will we avert a disaster? 
Once more, the eyes of the world turn to this year's COP27 Summit held in Egypt's Sharm El Sheik, as world leaders seek to put in place plans and set targets to help mitigate the impacts of climate change and prevent a climate catastrophe.
Last year, our 2021 Climate Reality Barometer revealed a reality deficit of misplaced optimism and intentions not followed up with actions on climate change. This year, we've taken it further. We surveyed over 26,000 respondents from 28 of our markets, to get a better world outlook and ultimately see whether anything has changed. Are people more mindful of climate change amidst economic and geopolitical issues? Is more being done to tackle the climate emergency and what's driving this?
The global outlook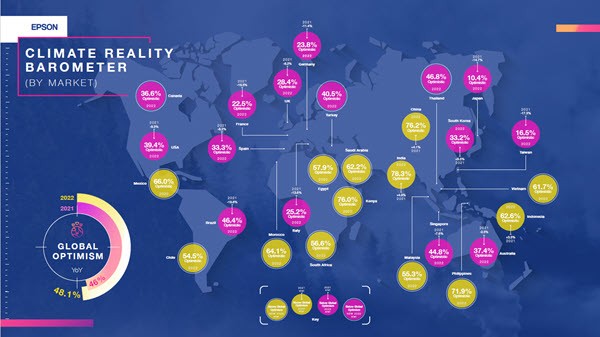 Globally, the outlook for optimism is varied, with developing countries having the most optimistic outlook, much more so than countries in the G7 for instance. Ultimately showing a mixed message on whether people are optimistic we will avert a climate catastrophe in our lifetimes.
Climate change is a priority
As part of our 2022 Climate Reality Barometer, we sought to discover what respondents feel should be the most urgent issue for governments, corporations, and people around the world. Currently, the world is amid a global economic downturn whilst inflation is taking hold, leading to significant price rises.
Despite this, climate change is very much at the forefront of people's priorities. In the Americas, 20% cite climate change as the most urgent issue global focus must center on, just behind fixing the economy (23%) and rising prices (22%). This prioritization is being driven by the youngest (24.9% of 16-24-year-olds) and oldest generations (25.9% of 55+).
People are increasingly seeing the signs and the reality is really sinking in. We are at the point where we cannot let climate change fall by the wayside. But we must ensure that it does not become overshadowed by other issues such as the economic downturn.
Seeing is believing
This leads us to what is driving people to take heed of the climate warnings and take action. Over the past year, since 2021's COP Summit in Glasgow, we've witnessed some devastating events take place, all linked to climate change.
So far, 2022 is the sixth hottest year on record and has seen wildfires rage in Europe, mega droughts in Africa and South America, and more recently the devastating floods in Pakistan leaving a third of the world's fifth most populous country under water. These events are a startling reminder of what's to come and a glimpse into just how devastating climate change can be. However, instead of being ignorant, people are noticing this and acting.
Witnessing the impacts of climate change has seemingly had a profound effect, with this being the most significant factor in inspiring change. Our research reveals globally, 80.2% of respondents cite this as the main reason. So, whilst we have seen some shocking climate events, we do see some light here in that the realities we face are starting to sink in and that it is leading people to do more, but it should not have got to this for more action to be taken.
What are people doing, what can we do to help?
Our research shows that people are acting, largely based on the impacts they've witnessed with climate change. When asked about lifestyle changes people have or would be willing to make, our respondents show they have done and are willing to take action.
The top actions people in the Americas are taking to mitigate climate change are, improving recycling habits (64.6%), reducing plastic use (62%), and walking and cycling more (52.6%). Where the gap remains however is people remaining committed to these actions.
More must be done to make it easier and more attainable for individuals to be able to make these changes and commit to them, to allow them to make gradual changes that can build into something bigger.
One small step…
There is much work that needs to be done, there's no shying away from this. The events of this year have given us a glimpse of the havoc climate change can reap if unchecked. Epson's purpose is focused on improving lives and the planet, and we will devote significant resources to achieve this.
Our aim is to place a real emphasis on decarbonization and resource recycling. We're working to make sure that all Epson-owned sites use 100% renewable energy by 2023. By the end of 2025, our vision is to reduce our direct emissions by 19% (scopes 1 and 2) and indirect emissions (scope 3) by 44%. Over the next ten years, Seiko Epson Corporation has set aside JP¥100 billion to make this a reality alongside the development of environmental technologies.
Our hope ahead of COP is that the insights from our Barometer will help governments, industries, and individuals understand the complexity of this global issue. To truly change the tide, governments, corporations, and people across the world need to pull together and keep climate change at the forefront of their thinking and their lifestyles. Only when we cooperate and work together, we can start making real progress to mitigate the climate disaster we currently face.