To be number-one in your industry you need to put customers first, and Sephora is a good example of a retailer that's focused on its customer's needs. The company has become the number-one specialty beauty retailer in the world largely due to its level of service and personalization. You, too, can deliver a great customer experience by using some of Sephora's techniques. Here are three tips for making shoppers feel special.
1. Design a store around customers' needs
When it comes to buying beauty products, customers traditionally had two options: a drug store where cosmetics were mixed with cold medicine and help was nonexistent, or a department store counter with salespeople competing for commission. Sephora changed it up by offering a different experience. Beautifully lit displays encourage customers to browse, and they can receive as much or as little help as they want.
Sephora also opened small-scaled Sephora Studios that provide consultations and services, such as makeovers and facials. Studios incorporate digital features, such as welcome screens that recognize and greet shoppers who have the store's mobile app on their smartphones. And customers check out quickly through mobile point-of-sale purchase (mPOS).
Consider your own store layout and sales approach. Look for ways to strike a happy medium between pressure-free browsing and full service sales. Incorporate digital strategies that make customers feel like they're part of your store, such as location-based marketing apps that send mobile messages or deals to smartphones when customers are near a retail location. And consider ditching checkout lines, arming your sales team with mPOS, instead.
2. Let customers experience your products in a variety of ways
Sephora understands that each customer is unique, so it allows products to be tested before purchase. In addition, the store holds free makeup demonstrations and gives out free samples.
The company's website also offers a personalized shopping experience. Its Virtual Artist app allows customers to upload their photo and "try on" eye, lip and cheek makeup as well as looks created by Sephora experts. The app also offers beauty tips and video tutorials.
Brainstorm how you can give customers a taste of what you offer before they make a decision to purchase. Consider holding classes, giving samples or having in-store demonstrations. The more information you can provide upfront, the happier shoppers will be with their experience.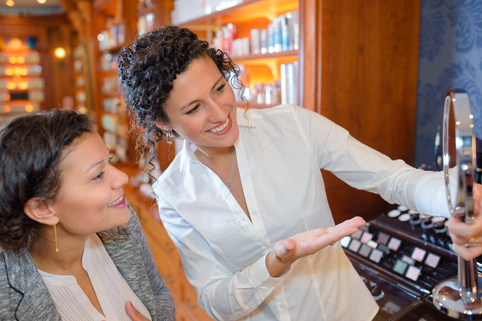 3. Create a community
Sephora's Beauty Insider loyalty program not only rewards customers based on annual spending; it creates a community where customers can get answers as well as recommendations from other members. The program is tiered, with the first level including access to the community, a free birthday gift and free classes, and the highest level offering perks like free two-day shipping, invitations to exclusive events and a private hotline for beauty tips and advice.
Sephora's program furthers the company's focus on personalization by asking for information about a shopper's skin, hair and eyes, and then analyzes the data and offering curated product recommendations. The focus on personalization is working; 80 percent of sales comes through its loyalty program, Bridget Dolan, Sephora's vice president of interactive media at Sephora said in an interview with Forbes.
You can create a strong community by starting with a loyalty program. Collect customer information you can use later to suggest future purchases, such as current products used. And consider creating an online community, such as a private Facebook Group, where members can connect with you and with each other.
"The power of using that data to better appeal to her at every touchpoint and understand her in a deeper way enables us to create these experiences that she cares about across our channels," Sephora Executive Vice President of Omni Retail Mary Beth Laughton said in an interview with Digiday. "Loyalty is a data-driven ecosystem, so that's hugely powerful."
Explore how Epson's retail solutions can help bring great shopping experiences to life.
This article is provided by Epson. The views expressed are those of the author and do not reflect the opinions and views of Sephora.