[Top photo: Children in Brazil using the Key-X to learn at school. Courtesy Key2enable]
Julia, 9, was born with cerebral palsy. Four years ago, she wasn't attending her school in Brazil much, as her teachers simply couldn't measure how much she was taking in. But that all changed when she was introduced to the Key-X multifunctional smart keyboard, an assistive-technology tool that empowers people of determination to use tablets, computers and smartphones with adapted hardware and accessories.
The Key-X, developed by a company in Brazil called Key2enable, allows children and adults with all manner of disabilities to communicate and learn in a way they were never able to before.
"Because of Key-X, I can write, study and even play with my computer," Julia says in a YouTube video introducing the tool.
She now attends class with her peers, is a keen Angry Birds player and became one of the best math pupils in her age group at her school, all because she is able and eager to study and explore the internet in her own time.
Alison, 12, is another success story. He was born with cerebral palsy, is unable to hold a pencil and cannot talk, but thanks to his school's decision to adopt the Key-X technology, he started learning fast and furiously. Within weeks of using the keyboard, he asked his teacher if he could write a book about a child who wants to make the world a better place. It was published last August.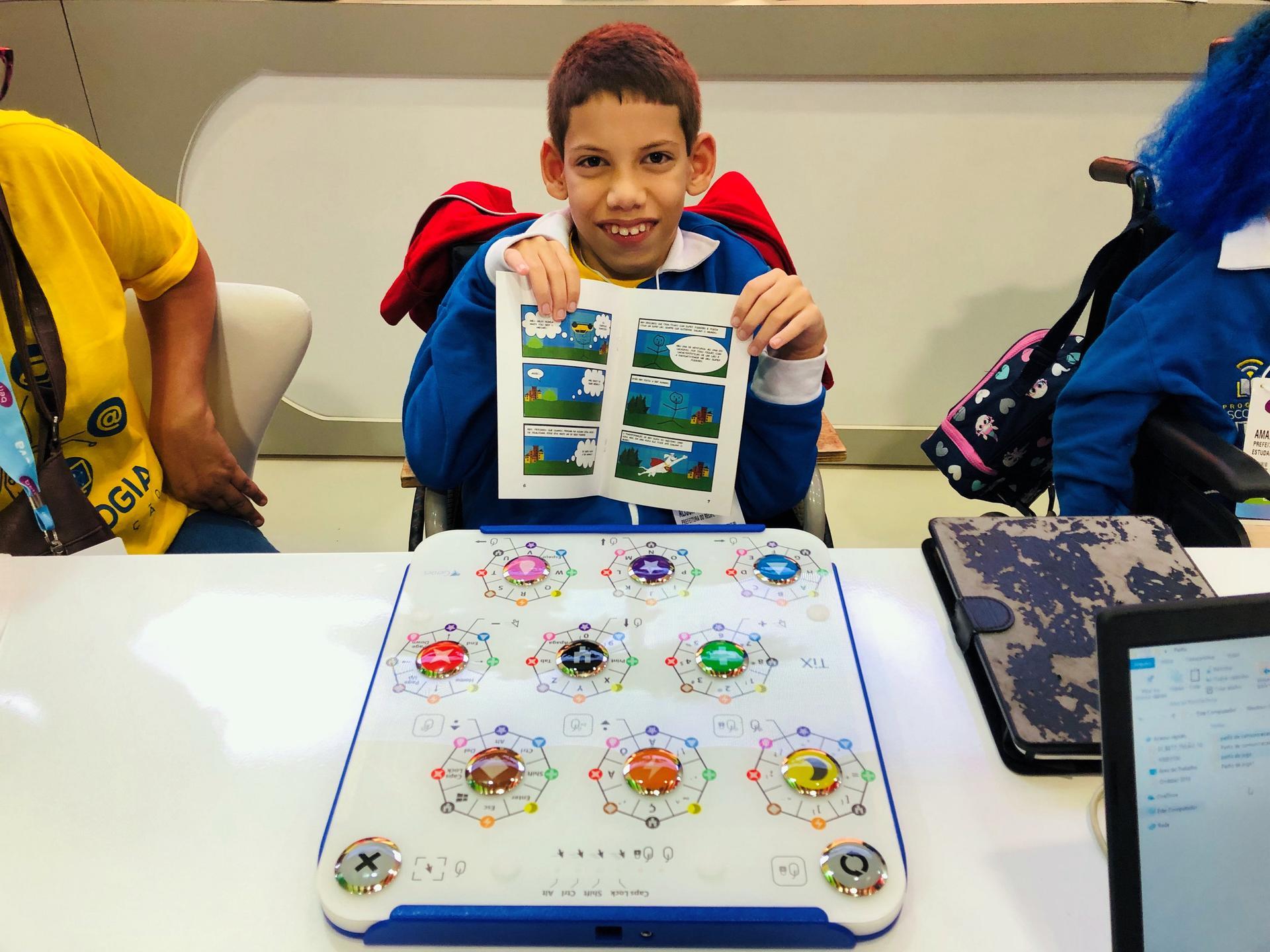 Alison, 12, has cerebral palsy and his first book was published in August. Courtesy Key2enable
The nine-button keyboard may look complicated, with all its colors and symbols, but it's actually easy to use. You simply plug it into your computer and, to write a letter or a number, you need only press a combination of two colored buttons. To access the mouse, you press "X" three times and then use the brightly hued buttons to move the cursor around. There are additional devices that make the tool accessible to people with more-severe disabilities, such as the a-blinX, which allows you to communicate with a blink of the eye, and the TelepatiX, which can write or vocalize sentences using the smallest possible movement.
This isn't only for children with impaired motor function, however. "Primarily we thought about people with severe motor disabilities like cerebral palsy," Key2enable co-founder Jose Rubinger says. "But our team foresaw that children with another spectrum could also gain using the keyboard, like autism, Down syndrome and other intellectual impairments."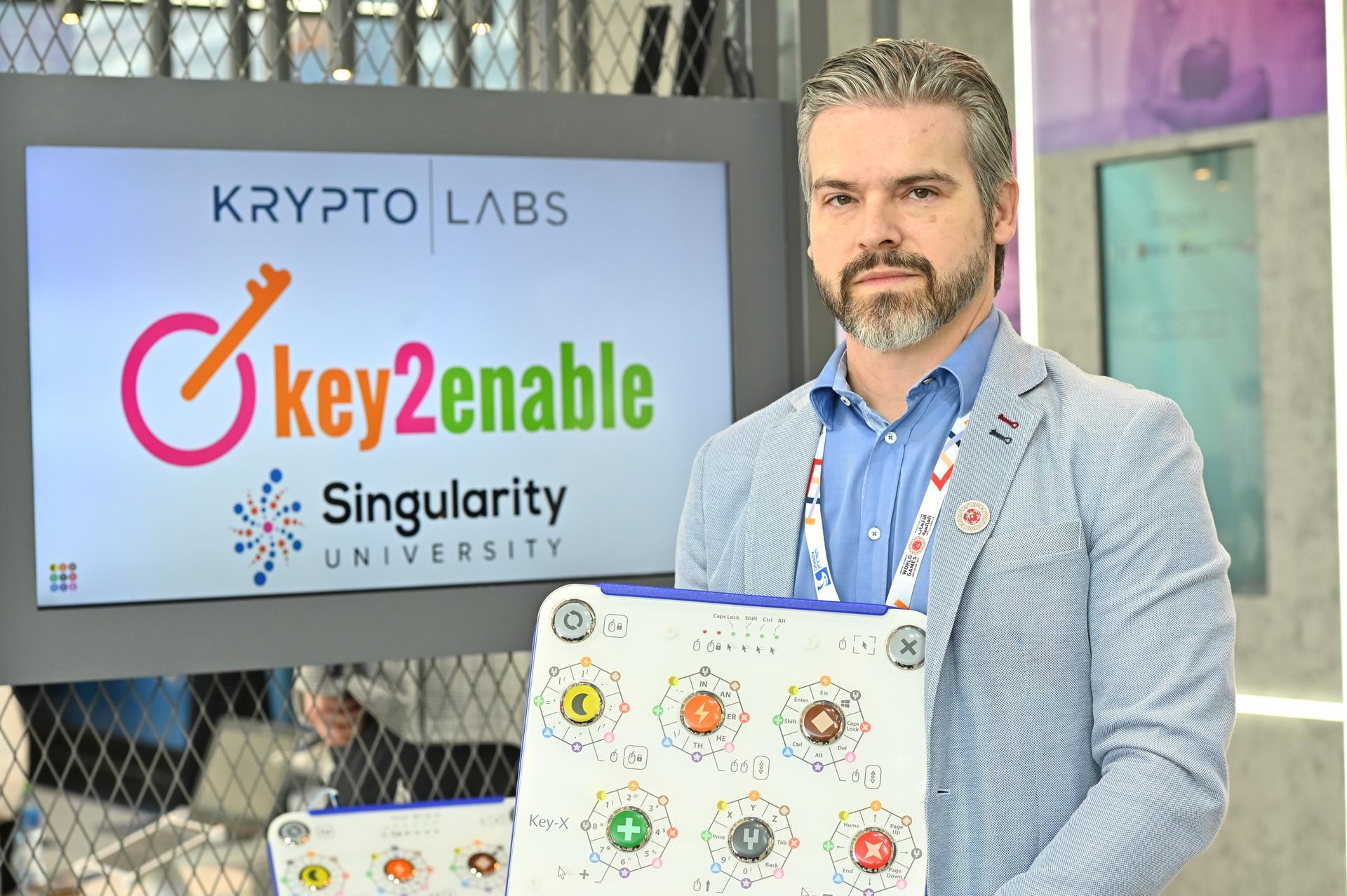 Jose Rubinger, co-founder of Key2enable Assistive Technology
They tested out the theory at schools and quickly found they were right. Take Laura, for example, a little girl with Down syndrome who previously found it difficult to concentrate and was struggling with learning how to count. The Key-X caught her attention and soon enough she was spending about 30 minutes a day playing math games her teacher created using the platform. Within a month she learned to count to 100.
Every so often an invention comes along that really changes the game for an industry — and, if the case studies are anything to go by, the Key-X may well go down in history alongside the likes of the wheel and the light bulb. Perhaps unsurprisingly, word of the device has spread rapidly across the globe.
"In Brazil, we already have a few thousand kids using it in public schools, homes and rehabilitation clinics," Rubinger says. "And now with our English, Spanish and Arabic versions, we're set to expand to North America and the world."
In March last year, Key2enable was back in Abu Dhabi to win the education category in the Special Olympics Challenge, which sought innovative solutions that could improve the quality of life for people of determination. In September, Key2enable was also one of 10 teams to be accepted into the first cycle of the Maan Social Incubator program, which was established by the Department of Community Development in Abu Dhabi. A month later, the company was selected for the Mohammed bin Rashid Innovation Fund's accelerator program, too.That's what has brought the team to the UAE numerous times over the past two years. First, Krypto Labs, an Abu Dhabi innovation hub, awarded Key2enable with its Entrepreneur Hero Award at the EdTech Innovation Startup Competition in 2018. The company bagged the accolade after competing with 800 other start-ups from 58 countries.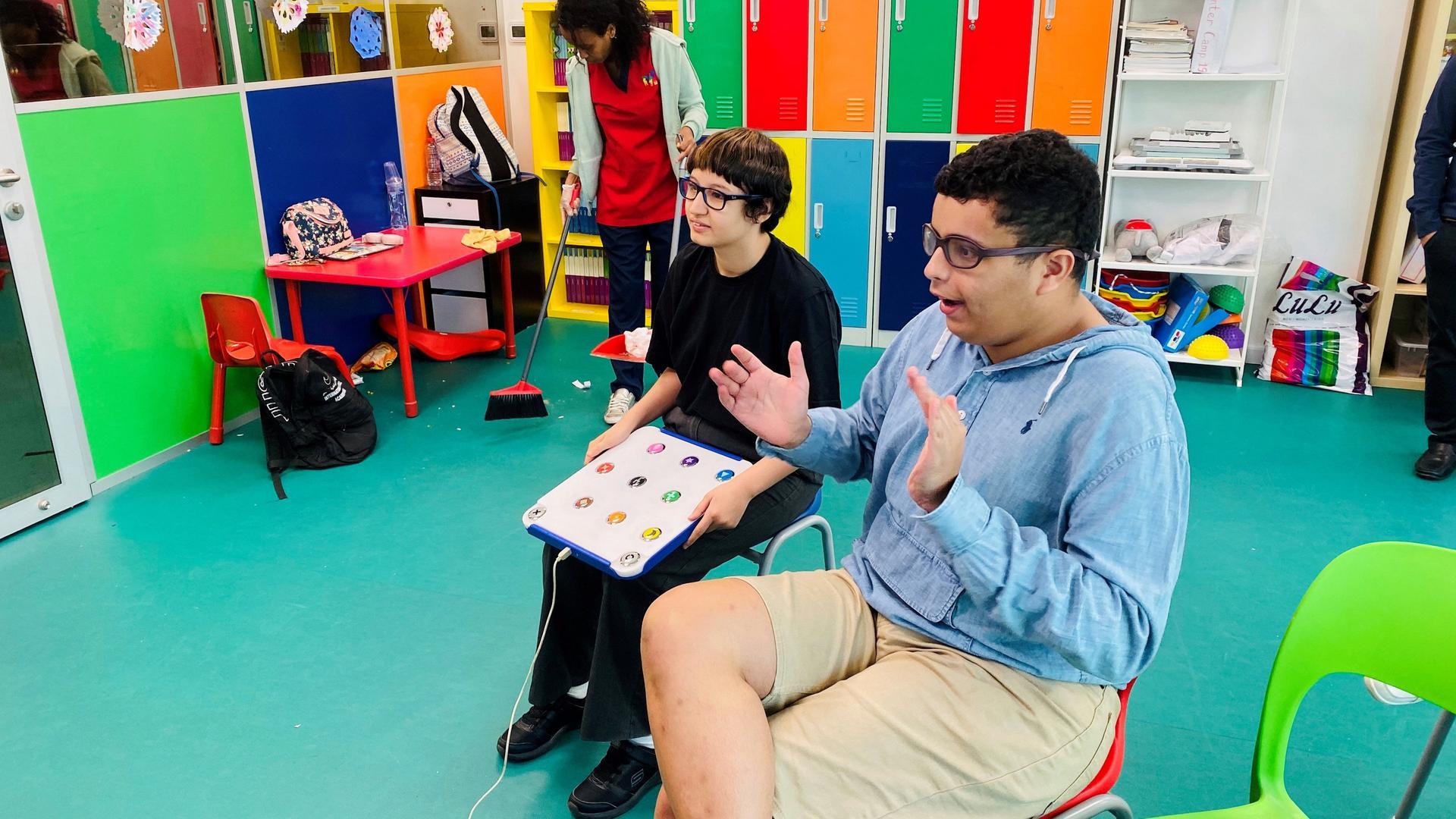 The Key2enable team visited Maharat Learning Centre in Dubai. Courtesy Key2enable
Now, the company has been invited to host workshops across Abu Dhabi, Dubai, Sharjah and Fujairah, and will begin pilots with children across facilities in the country next month. "We will collect real results from them and make as much 'good noise' as possible … to show we can make all these people realize their very true potential," Rubinger says. "We also want to talk to investors that want to make significant changes to peoples' lives for ever."
But where did it all begin? It started with a man named Gleison, who was born with cerebral palsy and yet earned a degree in computer science. He was able to learn and type on keyboards using a pointing device he strapped onto his head, but using this was incredibly time consuming. Once he graduated, he decided to create a keyboard that would allow him to better access his computer, which is when he came up with the idea of using nine buttons with all sorts of combinations.
When he met the people who would later become his business partners at an innovation conference in the U.S., they developed what we know today as the Key-X. It took two years of prototyping and an enormous amount of research, but now it seems the team's hard work has paid off and they can truly start making a difference.
---
This article was written by Katy Gillett from The National and was legally licensed through the NewsCred publisher network. Please direct all licensing questions to legal@newscred.com.