Staying productive is the key to success when working and learning from home. One tool that can help you boost your productivity is your printer. The right printer can go a long way to help make working and learning from home more efficient and effective. This will remain even more true as businesses and schools move to hybrid models.
How Epson Inkjet Printers can improve productivity
Epson inkjet printers offer several features that can help boost productivity and save time and money when working and learning from home. 
Plenty of Ink: Epson Supertank printers, like the Epson WorkForce ST-2000, come with two years of ink guaranteed.1

Easy Ink Replacement: When you do run low on ink, you can easily replace it using high-yield ink bottles, ink packs or ink cartridges.
Wireless Printing: Epson inkjet printers are wi-fi enabled, like the Epson WorkForce EC-C110. With this wireless mobile printer, you can print on the go from the convenience of your iPad®, iPhone®, tablet, smartphone, or laptop.2

Heat-free Technology: Unlike laser printers, Epson inkjet printers do not require heat to print. You don't need to waste time waiting for the printer to warm up, so the first page prints fast.
Low Maintenance: Epson printers are easy to maintain and durable. They are designed to reliably deliver day in and day out, giving you one less thing to worry about.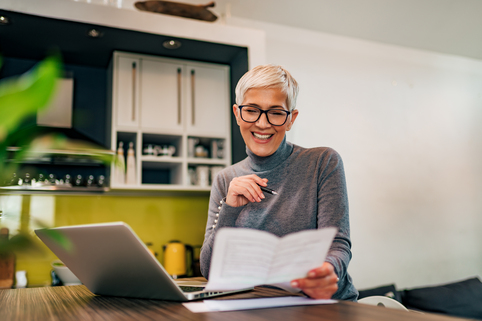 Printed documents can improve productivity and learning
Printing out digital content and reading it on paper, rather than onscreen, has some distinct advantages.
Print is easier on the eyes. It can take longer to read text onscreen than on the printed page. And print is less likely to encourage multitasking, which research suggests can reduce productivity.
People who read printed text also comprehend more, remember more, and learn more than those who read digital text.
With select Epson printers, like the multi-function Epson WorkForce EC-C7000, you can print up to 13" x 19" for larger documents and presentations and to further increase ease of reading.
Finally, printed text can be more convenient. You can take printed materials places you can't take laptops. For example, you can take a long printout with you to read while you wait at the dentist's office or to the park for a nature break and make that time more productive.
The benefits of printing in color
Printing in color also offers advantages for both working and learning.  
At work, color documents can increase attention span, recall, and comprehension. Color can also reduce the time it takes to read a document.
When learning, color documents are more engaging for students and enable them to focus on what information is most important. Color also helps students better understand new ideas and makes remembering key facts and information easier.


Printables can help you stay productive when working from home
Now that we've seen the advantages of printing out work documents, let's look at some printables that can boost your productivity at home.
To-Do Lists: Writing down tasks in a color-coded to-do list enables you to perform better. It helps you organize and prioritize your day so you can focus on completing your most important tasks
Weekly Planners: Knowing what tasks are coming during the week makes it easy to create an action plan to accomplish them. And it helps you evaluate your progress so you can stay on track.
Weekly/Monthly Calendars: A weekly or monthly calendar can help you stay ahead of tasks by letting you easily see what projects, deadlines, and other tasks are coming. Try colorizing it by priority for better motivation.
Goal Planner: A goal planner makes it easy to identify your goals and create a plan for achieving them. It can also be a source of motivation because it gives you something concrete to work toward.
Meal Plans: Taking a few minutes on the weekend to plan out the week's meals means you won't have to take time from your workday to think about what you're going to eat.  


Productivity-boosting printables for students
Printables can help students learning from home to be more productive and learn more effectively. They also offer students a chance to flex their creativity. Examples include:
To-Do Lists: Creating a color-coded to-do list is a fun way for students to better organize their work based on priority, so they feel less overwhelmed.
Study Plans: A study plan makes it easier to break up studying into manageable chunks for more effective learning and memorizing. Add color for tracking subject matter or progress.
Worksheets: When students write out answers in longhand rather than typing on a keyboard, it's easier for them to learn new information and better recall what they've learned.
Arts & Craft Projects: Arts and crafts projects help improve motor skills, aid in language development, and boost brainpower. Coloring pages, personalized family calendars, and custom greeting cards are just a few of the printables students can create. And if you have a multi-function printer, like the Epson WorkForce EC-7000, you can scan documents to make scrapbooks of student projects.
Where do you find printables to use for work and learning?  You can create your own custom printables using templates in Word and Excel. Plus, there are numerous sites online where you can find a treasure trove of free, pre-created templates to download.
So, if you're looking to improve productivity, look to your printer. Epson inkjet printers and printing in color offer numerous advantages when working and learning from home. They can help you be better organized and complete your tasks more efficiently, so both you and your kids can be more productive and have a little fun while you're at it.
---
1Promo valid for ST-2000, ST-3000, ST-4000, ST-M1000, ST-M3000, ST-C8000, ST-C8090, WF-C5790 Supertank (C11CG02201-LB), and WF-M5799 Supertank (C11CG02201-LB) printers through authorized Epson resellers only from 10/1/19 to 06/30/21. Product must be registered before 07/31/21. Limit 8 additional bottles of 502 inks, 542 inks, or 902 packs per printer. Max 8 claims per printer. Each claim cannot contain multiple bottles of the same color. Limit 2 additional bottles of 532 inks or M02XL120 packs per printer. Limit one bottle per claim. Based on average monthly document print volumes of about 150 pages (ST-2000), 300 pages (ST-3000/ST-4000/ ST-M1000/ ST-M3000/ST-C8000/ST-C8090), 500 pages (WF-C5790 Supertank) and 750 pages (WF-M5799). Promo applies to ink only. Printer covered by Epson 2-year ltd warranty. For promo participation, you must register your product.
2Most features require an Internet connection to the printer, as well as an Internet- and/or email-enabled device. For a list of Epson Connect™ enabled printers and compatible devices and apps, visit www.epson.com/connect