A good realtor uses their market knowledge and experience to help buyers and sellers achieve their dreams. There's nothing quite so satisfying as creating financial freedom for a seller, or helping a young family find their forever home. But behind those success stories, there's a lot of paperwork —  and a lot of printing.
Think ahead by creating a printing setup that keeps pace with your fast-moving business. 
Starting the relationship right
If there's one thing that a realtor must do well, it's making a positive first impression with a client. That initial meeting can make or break a relationship, and the more professional the materials that you can provide for your clients, the better.
Those materials might include a journal that buyers can use to make notes on specific properties. Inside might be a business card and a handout detailing your process. You might also include a buyer presentation with information about your background, experience, and unique service proposition.
These documents, along with your initial listing sheets, should be high-quality printouts to show that you're serious about serving their needs. This is where the Epson EcoTank Pro ET-5850 printer comes into its own. This cartridge-free printer delivers print-shop quality that will make your message stand out during that all-important first session.
The secret to the EcoTank Pro ET-5850's high quality is its DuraBrite Pigment Ink, which offers crisp, vibrant, professional print quality. This ink is suspended in a resin that stops it bleeding into the paper and losing its sharp edge. That gives you sharp prints, every time.
The EcoTank Pro ET-5850 is just as productive printing high-density color documents as it is producing color letterheads and graphs. You get high-quality, high-density color output at up to 8.5 x 14 inches with no borders that can handle all your real estate printing needs from agent notes through full-color fact sheets in style. Its high-capacity ink tanks make it possible to print colorful documents without worrying about running out of ink.
From winning the business to closing the sale
The EcoTank Pro ET-5850 doesn't just excel at color marketing material. It can also meet your needs when preparing the paperwork for home purchases. These documents are extensive, often creating stacks an inch or two thick. Crisp, clear copy isn't the only requirement; they must be fast and economical too.
Cartridge-free printing puts economy at the heart of the EcoTank Pro ET-5850's design. Conventional wisdom says that laser is the cheapest way to print, but economical ink tank designs have changed that. This inkjet unit offers high-quality color prints for less than equivalent laser models.
More economical ink isn't the only way that the EcoTank Pro ET-5850 saves money. It also uses PrecisionCore Heat-Free technology to help save energy. Laser printers use heat to fuse toner onto the paper, but this innovative printing engine uses a heat-free inkjet technology to save you money with each page that you print. 
This heat-free printing technology saves you more than money: it saves you precious minutes too. Cool printing technology means that you don't have to wait for the EcoTank Pro ET-5850 printer to warm up as you would do for a laser unit. That gets the first page in your hands quickly, no finger-drumming or foot-tapping required.
The printer follows this up with fast output, getting you up to 25 black and color pages per minute,1. You won't have to wait for the pages to dry, either, because its instant dry ink means that even high-density color pages are ready to collate and put into your bag immediately. The EcoTank Pro ET-5850 is one of our fastest EcoTank printers.2
Printing using refillable super-sized ink tanks doesn't just save money and time. Unlike laser printers, the EcoTank Pro ET-5850 doesn't need toner cartridges, enabling it to generate up to 30 times less plastic waste than a leading color laser's toner cartridges.3 What better way for a realtor to show that their business is in line with their clients' values?
A productivity powerhouse
The EcoTank Pro ET-5850 has productivity baked into its design, making it fast and intuitive for busy realtors to use. It features auto two-sided print/copy/scan/fax technology to maximize efficient paper usage and produce professional documents from the beginning. Its voice-activated printing enables you to print documents on command, just by speaking,4 while the 4.3″ color touchscreen makes it easy to configure print jobs visually.
The printer's wireless connectivity complements its Ethernet capability to ensure that realtors can print from anywhere on popular devices such as iPad®, iPhone®, Android™ tablets and smartphones.5 It also includes Wi-Fi Direct® technology which enables realtors to print without access to a local area network.6
The EcoTank Pro ET-5850 does all of this in a package that's resilient and reliable. It comes with product protection you can count on, offering a two-year limited warranty with registration.7 That gives you the peace of mind you need to grow your real estate business without losing printing capability.
A high-quality, low-cost printing technology like the EcoTank Pro ET-5850 is worth the investment for realtors working in a high-pressure environment. It can help empower you to focus on the heart of your business: creating the outcomes that buyers and sellers demand and deserve. This cost-efficient productivity tool gives you professional and economical results at the touch of a button.
Click on the image below to learn more about how the Epson EcoTank Pro ET-5850 can help support you and your real estate business: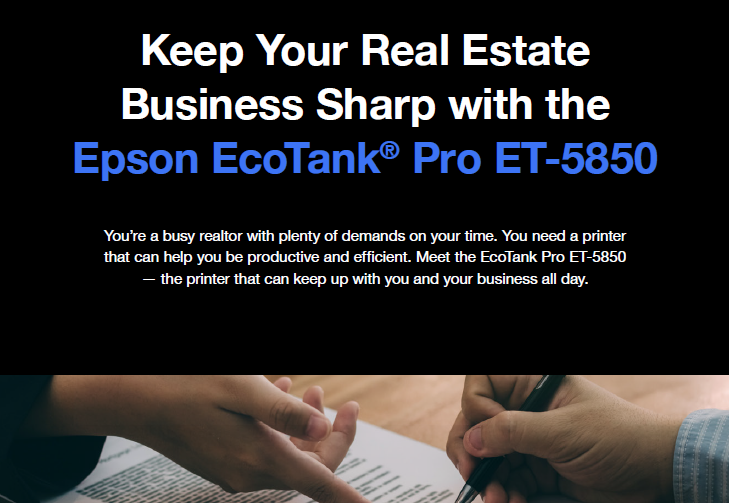 ——