In today's shopping landscape, every element of the retail experience plays a critical role in capturing customers' attention. Digital signage highlights the latest products and current promotions. Seasonal window displays delight onlookers, draw the eye and encourage foot traffic into stores. Mannequins and creative visual merchandising help attract buyers to specific products.
Projection technology is changing the way retailers can approach using space, adding color and bringing the store experience to life. Here's a closer look at five ways retailers are using projection in stores to engage customers, drive sales and stand out from the competition.
Bring your showroom or store alive with visual merchandising
Whether your retail location is a luxury showroom or a shop-now boutique, it's important to highlight your merchandise. Buyers are increasingly visual. Capturing their attention and getting them excited about a product in-store can pay off; eMarketer reports that 68% of consumers make impulse purchases in-store. With projection, it's easier to explore how creative, dynamic and colorful visual merchandising can help attract customers. Some recent examples include spotlighting products, adding fast-moving patterns for an eye-catching backdrop and creating complex displays using light and color for a curated visual experience.
Experiment with projection mapping
Not long ago, projection meant displaying an image on a flat surface, such as a screen or a wall. Today's projectors are more sophisticated and can turn nearly any surface into a screen that comes alive with color, imagery and even video or moving animations. Non-traditional surfaces are inviting store managers to experiment with projection mapping. Images can be projected onto floors, ceilings, mannequins, and other pieces of furniture. Aspects of the showroom or sales floor can be turned into displays, from the floor and ceiling to panoramic wrap-around displays. The possibilities are limited only by a brand's creativity.
Draw customers in with compelling window displays
Window displays help capture shopper attention as they walk by a retail location. The content of displays needs to shift with the seasons, from back-to-school to Halloween and straight into the winter holidays. The Seattle Times reports that the retail seasons are shifting faster than ever — and changing window displays takes time, staff allocation and budget for printing and props. With projection mapping and digital displays, it's possible to change your creative regularly — with lower costs and faster turnaround times. When the bar is raised for more innovative window displays, it's easier for retailers to experiment with new approaches and stay on top of the latest trends.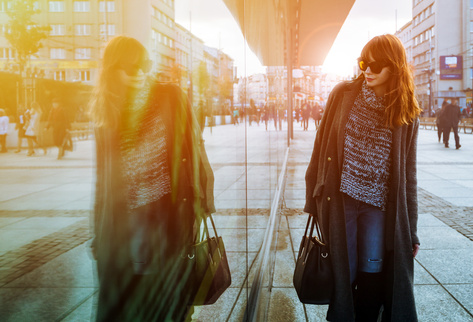 Digital signage keeps your promotions current
Customers are always looking for the latest merchandise, promotions and discounts. Printing and displaying signs takes time and can add significantly to a retailer's marketing budget. Digital signage — from touchscreens to projections — is changing the way stores let customers know about their latest products and sales. With digital signage, it's easy to stay current with seasonal promotions, adjust sale details when inventory is running low or help draw attention to target products or store departments. Increased agility improve sales, while keeping pace with the fast-changing customer experience.
Win customers with environmentally friendly choices
Today's customers care about working with environmentally friendly brands. Sustainable Brands reports that 86% of U.S. customers expect brands to be environmentally responsible. Retailers are incorporating projectors into their store designs, advertising strategies and training programs to eliminate unnecessary printing. Projectors can help make store-level operations — and the marketing engine that helps power the retail experience – more environmentally friendly.
Customers want an immersive retail experience, and projection technology is allowing brands to take their customer experience to the next level. From environmentally sustainable choices to easy-to-change digital signage and window displays, explore how projection can streamline your retail experience. Color, motion, sound and other options are transforming in-store merchandising, displays and advertising to attract foot traffic, wow customers and convert browsers into buyers.
Ready to elevate to elevate your brick and mortar experience? Learn about Epson's laser projectors for retail.